Tänk på att en del webbläsartillägg så som Adblocker kan blockera vissa video spelare.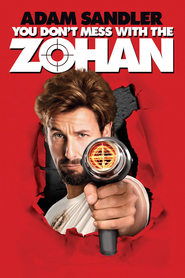 You Don't Mess with the Zohan ( Jiddra inte med Zohan )
Zohan är en Mossad-agent som fejkar sin egen död för att kunna genomföra sin omöjliga dröm – att bli frisör i New York. Zohan tar New York-kvinnorna med storm, eftersom han inte bara erbjuder dem en snygg klippning. Några terrorister tror att Zohan jobbar "under cover" och försöker att tvinga in honom i deras nätverk. Men hans gamla agenttakter sitter i, så de bör tänka om innan de börjar jiddra med Zohan!
Duration: 113 min
Quality: HD 720
Release: 2008